A warm welcome to the May 2016 Objitec business metrics and progress report.We make these reports public so that others can learn, comment on, or even advise us on where to improve. All comments are welcome at the end of the post.
Google Analytics And Google Search Console
The following link is a reminder of the sites that we manage as part of the Objitec company.
Once again we've had little time this month to focus on traffic and therefore as you can see from the chart below there's nothing major to report in terms of increases in traffic.

Metrics
The following table shows our latest measurements.
Metric
Apr
2016
May
2016
Comment
Objitec Traffic
83
52
Quite a drop but nothing to worry about just yet.
Online Booking System Traffic
72
78
Slight increase
PlanIt-BookIt Traffic
105
145
Small increase
@planitbookit Tweets
23
 24
Almost no effort in terms of tweeting this month.
@planitbookit Following
116
 125
Little social media effort this month.
@planitbookit Followers
22
 27
Little social media effort this month.
@objitec Tweets
10
 12
Not focused on objitec twitter account
@objitec Following
4
 4
Not focused on objitec twitter account
@objitec Followers
4
 4
Not focused on objitec twitter account
Comments across all sites
0
 0
Need to keep focusing on quality articles
Customers
4
7
Three new equestrian centre customers this month which is great news!
PlanIt-BookIt Facebook Likes
5
5
Not promoted this FB page yet.
Objitec Facebook Likes
2
2
May focus on this more in future.
PlanIt-BookIt Development
Due to on-boarding a number of new equestrian customers this week we wrote a routine to take riding club members from the standard British Riding Club spreadsheet and import into PlanIt-BookIt.
This routine has been successfully used to import member lists from our new customers.
We have enabled administrators to optionally delete members who do not renew and have provided them with visibility to the notes recorded by members.
SalesTalk Development
This month we made a number of changes to the customer maintenance section of SalesTalk. From the orders tab you are now able to Add, Delete and Update past orders.
You can also then get the system to calculate the expected order date based on up to the last 5 orders in the system or you can use your judgement / knowledge to enter when you think the expected order date will be.
The customer orders page is shown below…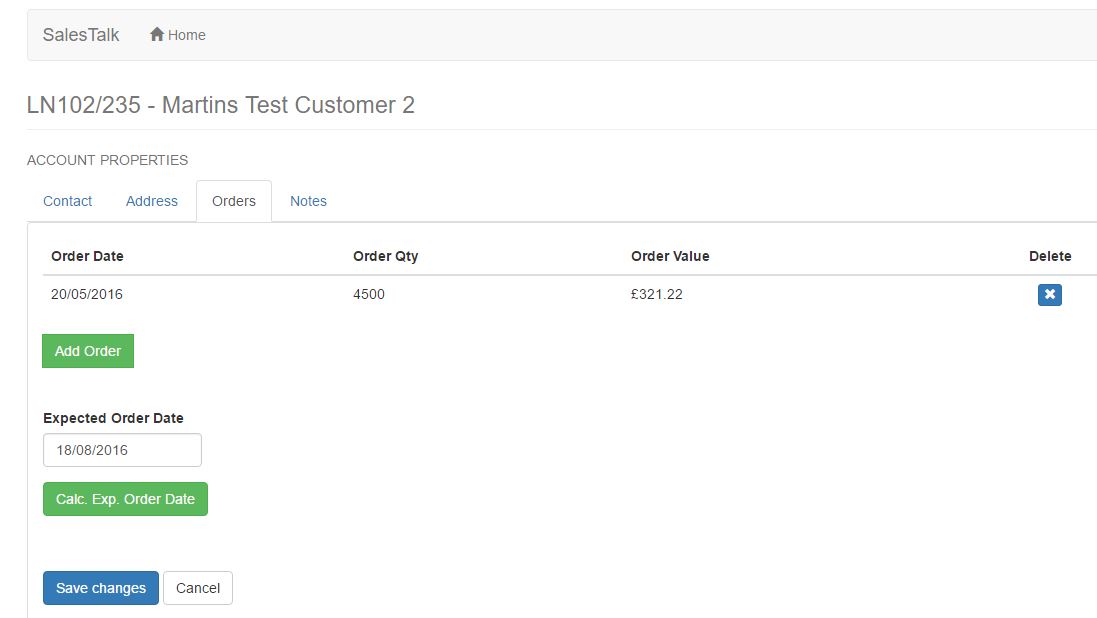 Below is the update orders modal pop up…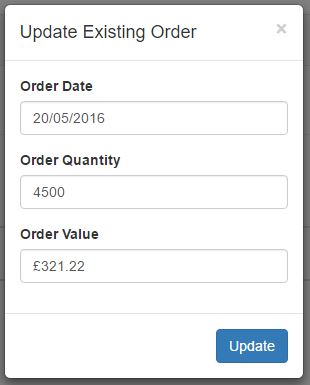 The add is very similar except the values aren't pre-populated.
Customer Payments
We have been accepting customer payments via PayPal invoicing. Which is OK and I mean OK! – i.e. it's not great.
One of the drawbacks with accepting payments this way is that we have to recreate the invoice each month and our customers have to login to PayPal and pay the invoice each month too. So a little effort required from both parties. This is clearly not going to work as we get more and more customers.
Therefore we've signed up with a third party direct debit company called GoCardless. This service enables us to issue monthly direct debits. Our customers can cancel at anytime but until that point there is no further effort required. The payments will automatically happen at a specified point each month.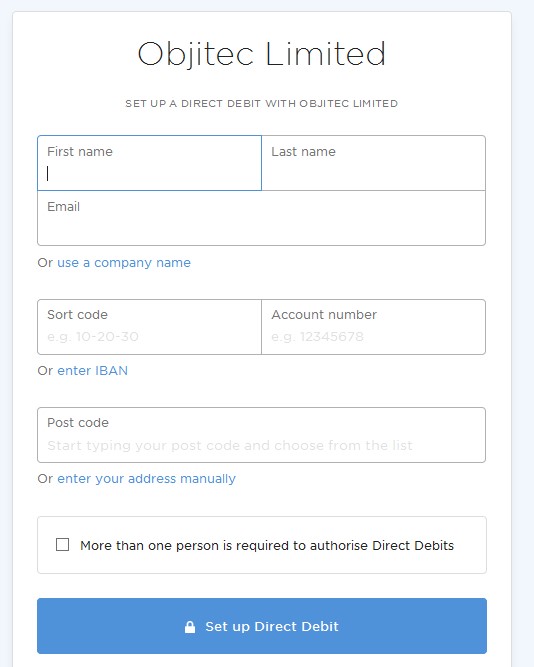 In terms of invoicing our customers we are in the process of building an automated invoicing system to send out invoices to our customers each month.
Social Media
We added the following default post to Objitec's twitter account…

New Business
This month three new customers signed up with us! All three were equestrian centers looking to use planit-bookit's club membership and management functionality.