So I can track progress I have decided to implement a monthly metrics report. I am making these reports public so that others can learn, comment or even advise me on how to improve. I welcome all your comments at the end of this post.
Google Analytics And Google Search Console
One of the most important first jobs when considering metrics is to implement Google Analytics. To do this I installed the super simple google analytics plugin on each of the sites I plan on tracking and then added each as a property to our analytics account in the admin section.
Also Important is to add all the sites (properties as Google calls them) to the Google Search Console. This is relatively straight forward once you have all your sites added to Analytics as verifying ownership is just a simple matter of clicking a verify with analyticis button. I also like to add XML sitemaps into Google Search Console to do this I use the functionality available in the Yoast SEO plug in. Note: Remember to add yoast prior to publishing any pages or posts otherwise they don't get included in your sitemap.
Sites With Analytics Tracking Added And Their Purpose
objitec.com : This web site – used for tracking metrics and other company related activities.
online-booking-system.net : A site for marketing only that will be focused on all things related to online booking.
planit-bookit.com : Our main product page. Links to all the different business sectors in which PlanIt-BookIt is implemented.
squash.planit-bookit.com : For squash clubs and squash members. Includes a sign up page for squash-planit-bookit and also lots of useful articles directly geared at squash club members.
And they're all relatively new sites at the moment so not expecting too much in terms of traffic just yet…

First Customer
Our first product squash.planit-bookit is fully live with our first customer Rothwell Squash Club. So far the feedback from the members has been highly complimentary so need to plan on putting a testimonials page together soon. We had a few teething problems on launch day (Sunday 23rd August) as the reset password page had not been published to the cloud, however that was quickly solved. We also had a few small issues in the first 2 weeks in terms of members not completing their bookings. We have since made the booking process easier to use.
PlanIt-BookIt Logo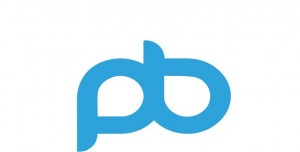 We needed a nice affordable logo for our PlanIt-BookIt product. My two business partners and myself have non-existent graphic design skills. So we made use of fiverr.com for our design. The resulting logo is displayed on the left. Which we're very pleased with given our $5 outlay!
Business Cards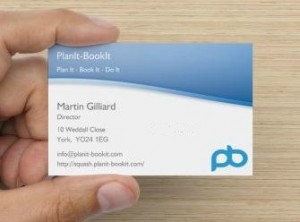 I personally play a lot of team squash so we decided it would be wise to print a set of business cards which I could hand out to the players I meet at all the away games. I used VistaPrint for this purpose and the resulting business care is on the left. I erased my cell phone number from view to the world!!
Landing Page
Quite a bit of effort was placed on getting some basic form of landing page together so that new customers can sign up to squash.planit-bookit. The page however is very basic so we might need to invest in a designer or a landing page theme. The focused effort in October will be to drive traffic to the landing page through content marketing. A quick brainstorm with myself for possible content ideas has resulted in the following potential titles…
Can't drop, won't drop – help me please!
How to create and run a mini league / box league or a squash ladder. (Free ladder with planit-bookit, giveaway a free excel template)
Want to start boasting about your boast? – yes then read on.
Top 5 tricks to deceive your opponent and send them the wrong way. (Add a funny one – wear a skirt?)
A free complete guide on how to run a squash handicap competition.
Want to play team squash but a little nervous about starting then read on.
Playing while completely legless! (story about 1 legged squash player)
Squash players like to boast about their length! (importance of long game with occasional attacking boast)
Squash players like to do it against the wall! (importance of keeping the ball tight to the wall)
Want more junior squash players in your club? How to introduce a junior program.
How do I play against a hard hitter?
How do I play against a front of court wizard?
What to keep in your squash bag.
I'm a squash beginner – give me the basics please!
He's fat, old and unfit. Why is he beating me?
Squash games that three of you can play on one court.
My opponents not turned up – what routines can I practice on my own.
All the squash gear and no idea!
He's a pensioner and his serve is almost unplayable. How to serve like a top pensioner
Let, Stroke – what's all that about?
How to improve your squash.
X Squash tips that will help you improve your game today!
My racket skills are pretty good. What I need help with is some tactics…
I'm addicted to squash – do i need intervention?
Ouch! my Achilles Heal is killing me, what can I do about it?
Always getting injured? Here's some stretches and pre game warm up sessions that might help.
The squash backhand as hard as a diamond!
Like to swing? How exactly to play a forehand.
Post match analysis over a pint in the bar!
How cold is your court!
How much do I hate playing that one individual
The best squash sites and blogs on the web
The best squash books available on Amazon
Development
This months development efforts have been focused predominantly on getting the administration portion of planit-bookit up and running. Additionally we have however done the bulk of the coding for a squash ranking module which will be a core piece of functionality for squash clubs. Enabling club members to be able to submit their scores and achieve a ranking score against other members in the club. The code behind our view bookings page is quite complicated, so we have also put some effort towards simplifying that code this month.